InterVolt Development Services
InterVolt Development is involved with numerous web-based services including all elements of web development, branding & media design, site maintenance, custom programming and website marketing. InterVolt can develop new web solutions, optimized for business and individual special needs.
InterVolt Client Login
Our Web Development Service
Our web design's are custom made and unique using advanced Photoshop techniques. Our styles are what makes past customer's come back to InterVolt for all their web site needs. Our design types include Basic or Advanced Professional Designs, High-Tech Designs with high quality graphics, creativity and motion, or if you prefer speed; a fast loading and on demand web site. It's your choice. If your interested in the use of our services Submit a Quote to us for FREE.
Within our web development service we can offer the following:
Web Site Quote Inquiry & Consultation
Professional Web Site Design Service
Full WordPress Integration for Content Management
E-Commerce Integration (Shopping Cart, PayPal, etc.)
Free InterVoltClient Setup, for Client to Designer Interaction
Custom Javascript Development
Flash Animation & Presentations
Database Development & Connectivity
Business E-mail Form Interaction
Logo & Custom Graphic Design
Web Site Reviews & Content Writing
Search Engine Optimization & Submission
Individuals not associated with any type of business, who are seeking a personal web site are also accept. We also offer re-designs for businesses who already have a web site, but aren't getting the benefits that they deserve with it. The internet is a very powerful place without the right tools and comprehension their web site won't be successful.
Our Media & Branding Design Service
With our concept on design and development, InterVolt is visually in control. We offer a wide range of Media Design Services, in order to help businesses advertise and promote their business. We make use of the latest tools to make all graphics unique and appealing to the consumer, in all aspects.
InterVolt Development seeks small to large businesses looking to advance their state in the growing business world. Businesses can take advantage of our Media Design Service to boost business popularity with creative thinking and billboard advertising. With our concept on design and development, InterVolt is visually in control. We offer a wide range of Media Design Services, in order to help businesses advertise and promote their business. We make use of the latest tools to make all graphics unique and appealing to the consumer, in all aspects. All finished Media Design products created by us are sent to the client in Computer Readable Format. In other words the finished product is sent to you ready to be professionally printed at your expense.
Here is a list of all the Media Design types we create for our clients:
Business Brochures
Business Cards
Custom Graphic Project
Bluray/DVD/CD Covers, Labels & Box Covers
Flash & Promotions (Animations)
Static & Motion Web Banners
Invoice Forms
Logos & Splashes
Navigational & GUI Interfaces
Digital Picture/Photo Editing
Custom Marketing & Promotional Design
Our Website Maintenance Service
Our Maintenance service includes web site information updates, such as special offers, product changes, pricing changes, new product and services announcements, employee information changes and all aspects of text and image content editing. We also can supply a web site with a Content Management System for instant updating.
What we offer within our Web Maintenance packages:
Modification and Addition of Website Content
Modification and Addition of Pictures & Graphics
Newsletter & E-mail List Maintenance
Shopping Cart Product Updates
Update Announcements, Articles, etc.
Adding / Removing of Pages
Site Security & Web Site Re-design
We also offer a content management system (CMS), which are web application used for managing web sites and web content installed server-side. The market for content management systems remains fragmented, with many open-source and proprietary solutions available, we can install or create them to suit your web site's need.
This package is a one time fee for a CMS system which you can make changes to your web site on demand. CMS is fast, user friendly and completely flexible for your web site.
Our Custom Programming Service
We support a wide arrange of languages to support your web application needs. Our programming team has extensive experience in developing custom Web-based applications and database-driven sites which utilize MySQL, Microsoft SQL or Microsoft Access. We accept any type of custom web application job, no matter how in-depth and complex the project may be.
Here is a list of programming languages we use to create your web application:
PHP
JAVASCRIPT
AJAX
ASP / ASP.NET
RUBY (ON RAILS)
C / C++
Our SEO & Marketing Service
We explore and present to the client a detailed list of the most efficient Internet marketing tools and methods available to them within the constraints of their budget. This type of service is pertinent to our company given the fact that a very large percentage of our clients are on a tight budget.
After we build the web site for our clients, or a new client introduces us to their pre-existing site, we offer this service. As experts of the Web, we can analyze and test a web site based on an established set of standards that account for the web site's aesthetic value, scalability, functionality, ease-of-use, and main customer base.
What makes our Marketing & Advertising beneficial:
Rank well with the Search Engines
Attract interested targeted visitors
Are focused on the needs of their visitors
Keep visitors on site (and encourage repeat visits)
Get the desired response (contact, sales, traffic)
Type of Marketing & Advertising services we offer:
High Traffic Advertising (Banners)
Web Advertising
Extended Search Engine Submit
Adwords & Adsense
Web Site SEO (Search Engine Optimization)
Portfolio Addition
How To Get Started
Want us to get your online business off the ground and increase sales? Let us show you how to get started. Drop us a Quote Inquiry.
How To Get Started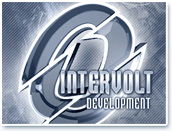 We would like to give you an in-depth look on how we do things at InterVolt Development. The Design Process will give you an insight view on how the development construction will feel, once you Order a Service from us.
For even more information on Our Services and becoming our client for your future or current business website , you can view Our Brochure as well.